Hawaii's #1 Greenhouse Supplier
Posted on April 16, 2009
Located on the Big Island of Hawaii, Greenhouse Specialists, Inc. is the premier supplier of commercial and home greenhouses in the state of Hawaii, and the Pacific Rim. Phone: 808.982.6565 ~:~ Fax: 808.982.6560
info@GreenhouseSpecialists.com
Come Visit Us
Posted on April 12, 2009
For a map of how to get to our office,
click here
. And for a cool looking satellite image,
click here
.
Mainland Distribution
Posted on April 08, 2009
Customers in Oregon, Washington, and Idaho, call us toll free at 866-982-8502.
Contact us to learn more
Welcome to Greenhouse Specialist Inc.
Greenhouse Specialists, Inc. (GHS Inc.) is the premier supplier of commercial and home greenhouses in the state of Hawaii, and the Pacific Rim. GHS Inc. also supplies warehouses, shade structures, retail centers, fertilizers, grower accessories, irrigations and injectors, fabrics, plastic containers, cooling and heating systems, bench systems, nursery carts, plant tags and more...
Phone: 808.982.6565 ~:~ Fax: 808.982.6560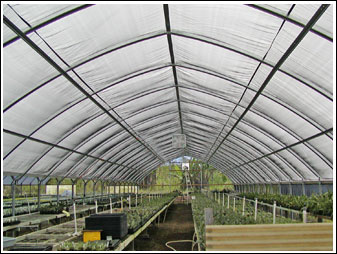 Growing Supplies & Product Knowledge:
Greenhouse Specialists carry a wide array of growing supplies and gardening products. Whether you are a backyard grower or a full service nursery, GHS knowledgeable staff are happy to share their expertise and recommendations for any sized project.